See Director's Home Page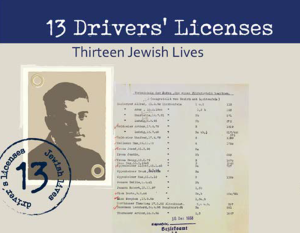 Logline
A film about Nazi Germans revoking 13 drivers' licenses from Jewish residents Lichtenfels in 1938, and how, 80 years later, local high school students reconcile with their Jewish descendants.
A trailer will be available later this year.
Synopsis
13 driver's licenses are found that were confiscated from Jewish residents of Lichtenfels in 1938 Germany. Local history students sifted through historical records to trace what happened to these lost persons. Using social media and other means, they identified and located their progeny.
The students meet eight descendants in Lichtenfels. The positive event upturns the lives of the descendants like Lisa Salko, a resident in New York.
We follow the journey with surprise and awe as the students connect the licenses to the descendants. This uplifting story of hope illustrates how the students faced the horrors of ethnic war crimes in their own town and reconciled with their past.
Longer Synopsis
In 2017, 13 driver's licenses (DLs) were discovered in the basement of the county office in Lichtenfels, a small town in Germany. They had been confiscated from Jewish residents in 1938. After months of research, high-school history students found that 5 of the DL holders had perished in the Holocaust; and 8 had escaped to Israel, Argentina, and the USA. The students and their teacher located the descendants and, in a move unique in all of Germany, invited them to Lichtenfels, their ancestors' hometown, for the return of the DLs. The film will ask the essential questions: What was life like in this town before the rise of the Nazis? What did Jewish residents experience in the 1930s? What was their fate? How do their descendants view Germany now? And is reconciliation possible? The film will showcase archival material, reenactments of pivotal scenes, and diverse voices–with the goal of exploring how a horrendous past can be transcended through remembrance, reconciliation, and friendship.
The 13 Driver's License project is unique in Germany in reestablishing deep contact with the descendants of their maltreated Jewish residents. It has won multiple awards, serving as a model of how to process a horrific past and find a way forward in the spirit of reconciliation and friendship.
The documentary will engage, make aware, and educate audiences through the sometimes heartbreaking and sometimes uplifting individual fates of the Jewish families. By illustrating the rise of the Nazi regime in a small town from the perspective of Jewish families, we will understand the degree of discrimination they experienced. The documentary hopes to inspire research and reappraisal of the viewers' own culture's past, and to strive towards making amends and taking measures to prevent human rights violations and genocide.
The surviving and remaining Jewish and non-Jewish residents of Lichtenfels who were children in the 1930s and will be featured in this documentary, are now in their late 80s and 90s. The project is time-sensitive; it is imperative that their stories be told.
Antonia Voll (researched Stefan Zinn)
"I was surprised because I knew that house my whole life, today there is a café in there, you don't expect that it has such a history."
Julia Mehrmann (researched Berta Zinn)
"…during the November pogrom, the husband Stefan [Zinn] was transported into a concentration camp, but they could send money so that he could be free again, but after that, their house was destroyed, the baskets were everywhere, they had to hide in the attic, after that they escaped; the brother of Stefan drank poison and died in the hospital because he couldn't handle everything that happened that night."
Luise Aumüller (researched Alfred Oppenheimer)
"I was most touched how hard he [Alfred Oppenheimer] worked from a young age to be successful, also how hard he worked to prepare for leaving the country (visa, fees, etc.), however this little incident made it impossible to leave and they were eventually murdered, I know that they were not an exception, the same thing happened to many Jewish families"
Sophie Rauh (researched Leo Wolf)
"The most important thing I could experience and learn was that in a mass of people, there are a million individual destinies. A million people, who are someone's child, someone's lover or have children of their own, who have their own personality, their own dreams and their own story…that means the most to me."
Laura Kalenda (researched Arthur and Manfred Goldmeier)
"…reconciliation is possible, but it is subjective, it depends on the individual person and their personal history, I can't imagine having such a personal background and don't know whether I could reconcile, people have to decide for themselves."
Victoria Thiel (researched Sigmund Marx)
"…descendants never had reservations, didn't hold us responsible for the actions of your ancestors, were open towards us, even though the town had such bad memories for them."
Clara Aumülle (researched Alfred & Sigmund Marx)
"…they are kind and forgiving people, saw our project as a way of us saying 'we know about our responsibility and we want to educate people,' that is something they supported and were grateful for."
Francesca Schütz (researched Leo Banemann)
"…when we were together with the descendants, it was like we had known each other, there were lots of tears of joy about our findings and our connection, we realized more and more that we didn't something meaningful, that created a connection between us."
Funding
We are so grateful for the support from our sponsors:
Consulate of the Republic of Germany
Commissioner, Town of Lichtenfels, Germany
Koiner Foundation, Germany
Sparkasse Coburg-Lichtenfels, Germany
Angel Donor, USA